*  Liar Liar
*  Feng Shui Fever
*  Between Brothers
*  To Elliot
Liar Liar



A 20 minute drama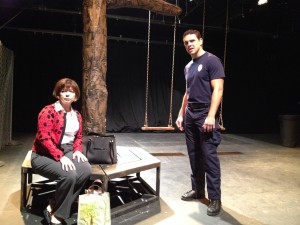 Cast:  Rachael (50):  A high strung attorney, Stephen (33):  A hunky firefighter, The Man (50's)
Synopsis:  Thirty three year old Stephen is in a drama filled relationship with fifty year old Rachael.  One of them is lying.
Production History:  World Premiere with And Toto Too Theatre Company, 2014
Image:  With Susan Lyles and Dylan Rush  – Photos by Brian Folkins
Feng Shui Fever
A 15 minute comedy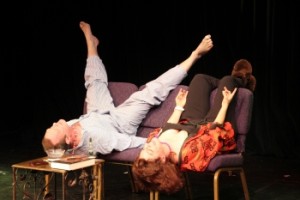 Cast:  Alice (44), Henry (late 40's)
Synopsis:  What happens when a book on Feng Shui gets into the desperate hands of Alice, when enduring a dark night of the soul?
Production History:  Bolder Life Festival, Denver, 2013, Winner: Audience Choice Award for Best Play
Six Women Playwright Festival, Colorado Springs, 2014
Picture:  Marc Moran, Christine Vitale at Bolder Life Festival 2013, Photo courtesy of Jobi Berger

Review:

Feng Shui Fever, a 15-minute romp by Denver's Nicolette Vajtay leads off, a near farcical jolt that would satisfy any aficionado of Christopher Durang's or Neil Simon's plays. In it a distraught writer (Elizabeth Kahn) faces down her own anonymity with a frenzied search for "chi" and other New Age solutions to realign herself with the universe and facilitate a career and personal rebirth. Happily, and in ways only found in romantic comedy, it works." Posted by Terry Gibson
To Elliot
A one act comedy – 20 minutes
Cast:  Zoë (29):   A larger woman, dental hygienist,  Daniel (30):  A skinny man, career challenged,   James (29):  Not a tall man, owns a towing company
Synopsis:  Three old friends are brought together by the early death of high school classmate.  Even while mourning his death, and perhaps because of his death, new life paths and new loves are discovered.
Production History:  Produced with C4-Theatre, Denver – 2008
Between Brothers
Fifteen minute drama
Cast:  Mitch (28):  Joined the Marines at 18. Has just retired his career after returning from Iraq,   Daryl (30):  Very happy, very gay. In desperate need of approval,   Steven (26):  A kind young man, somewhat lonely. He speaks with a stutter,   Judith (50's):  The boys' absent mother.
Synopsis:  The death of their grandmother creates an opportunity for the boys, now young men, to heal their old wounds around their absent and estranged mother.
Production History:  Produced at the NoHo Arts Center, Los Angeles, 2007