*  Relative Communication – a full length drama (2 hours)
*  A Magical Midnight – a full length for young audiences and families (1 hour, longer with intermission)
Relative Communication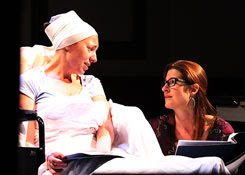 Full length drama
Characters:
Natalia (45):  The middle sister.  First generation Hungarian/American.  A bit bohemian, a meta-physician, escaped New Jersey 15 years ago.
Danielle (47):  The eldest sister.  First generation Hungarian/American.  A Born-Again-Christian. Lives in New Jersey.
Zsofia (44):  The youngest sister. First generation Hungarian/American.  She suffers from a brain tumor.  Lives in New Jersey.
Karolina (67):  The girls' estranged mother, an immigrant from Hungary. She is in excellent health and is stylishly dressed.
Zoltan (51):  The handsome nurse.  A Christian.
Synopsis:
Zsófia Kovács discovers her panic attacks are symptoms of a brain tumor and must be operated on immediately. Her estranged mother and two sisters are tossed into the waiting room for 18 hours where old wounds are poked and reopened. Can they all learn to love and support each other even though their lives have gone in such different directions? On the backdrop of this family crisis, the play questions our very existence, and where and how true communication is shared: between mothers and daughters, between siblings, from a God that does or doesn't exist, or through the magic and mayhem of social media?
Image: Athena Project Festival, Aurora Fox Theatre, March 2014 with Gina Wencel as Zsófia and Emily Paton Davies as Natália
Production History:
March 2014 Athena Project Festival, Plays in Progress
 A Magical Midnight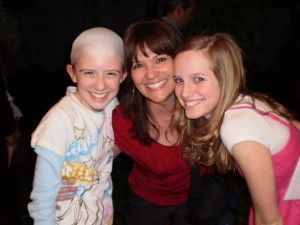 A full length play for families and young audiences – about 75 minutes
Characters:
Maggie (10):  A precocious young girl with a gorgeous head of hair
Olivia (10):  Maggie's friend; she has a colorful passion for life.  She has cancer.
Kelly/The Lovely Assistant (40):  The "perfect" mom / A beauty with a fake smile
Jack/The Game Show Host (40's):  Maggie's absent minded dad / A slick and sneaky enemy
Grandma (young 70's): A feisty witty wise woman
Robert/The Pirate (40's):  Olivia's workaholic dad, a pilot / A Rhyming Menace
Synopsis:
Maggie Conner, a precocious 10-year-old, is easily lured into the clutches of Hollywood's limelight when her luscious head of long, curly, red hair is "discovered" by a talent scout. Along with Maggie's new found fame comes a healthy dose of attitude, much to the chagrin of her family. Next-door lives Olivia Michaels, the same age as Maggie but much more advanced in spirit. Having cancer isn't easy, twice as hard when you're bald, but it doesn't damper Olivia's love for life and her colorful passions. When a glimmer of fate orchestrates a meeting between the two girls, a magical adventure ensues and the girls' lives are changed forever! With creative use of language and humor in a mixture of realism and fantasy, along with opportunities for simple theatrical magic and lighting, we experience the innocence of children and the magic of the universe, which is more brilliant than Maggie ever could have imagined.
Production History:
-Staged Reading with Playwrights Showcase of the Western Region, 2009
-Staged Reading with Colorado Theatre Guild New Venture Series, 2009
-Staged Reading at Kunsmiller Creative Arts Academy, Denver, 2009
-Staged Reading, Theatre District, Los Angeles 2006
Picture:  Allison Larned (Olivia), Nicolette Vajtay (playwright), Katie Brogan (Katie).  Staged Reading with Colorado Theatre Guild New Play Series 2009 at the Mizel Theatre, Denver

Awards:
-Finalist, Ronald Rube Play Festival, Caryl Crane Children's Theatre, 2012
-Honorable Mention, New Works of Merit, NYC, 2011
-Honorable Mention, Beverly Hills Theatre Guild Youth Theatre, 2009
-Semi Finalist, Princess Grace Award, 2007
-Prize Winner, Writer's Digest Stage Play Competition, 2006
Cast & Crew 2009: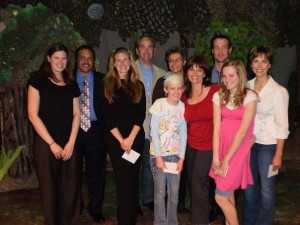 (From left: Sarah Roshan (director), Jeffrey Nickelson (CTG Representative), Clarrisa Fugazatto (stage directions), Steve Austin (in tan jacket, Jack/Pirate/Game Show Host), Marianne Amari (Grandma), Allison Larned (Olivia), Nicolette Vajtay (Playwright), Michael Nuccio (Robert), Katie Brogan (Maggie), Laurel Harris (Kelly/Lovely Assistant)